Back To Our Services
The installation of garage door safety sensors is essential for your own safety and the prevention of sudden accidents. Our company strongly recommends them since it cares about its clients' well-being.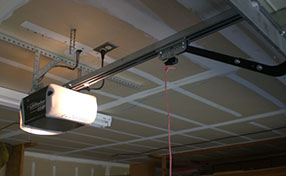 Safety sensors can protect a person, a child or a pet from being crushed under these heavy garage doors. We have heard the stories. There have been way too many cases of children and some adults being caught under a crashing down garage door. Our professionals at Lake Forest, CA Garage Door Sensors Company feel it is their responsibility to warn all garage owners in Lake Forest and surrounding cities about the hazards of garage doors that do not have these sensors.
Safety sensors for garage doors work rather simply
They have photo eyes that can sense if there is an object beneath the garage door that will obstruct it from closing. If the photo eyes sense that there is an obstacle it will reverse its course. It basically works with laser lights. These laser lights need to connect with each other in order for the garage door to close. If they do not connect then the door will stop and reverse. This could literally save someone's from getting a serious injury.
There are also carbon monoxide sensors. These are items that should also be added to your garage doors. These carbon monoxide sensors will detect the rising levels of carbon monoxide in your garage and immediately open the garage door. There have been too many accidental deaths related to carbon monoxide poisoning. Do not let you and your families become a statistic.
Do not put yourself or your children at risk. Call us today to come out and install garage door sensors on your door. If you already have sensors and you have noticed that they are not responding as they should call us and we will come out and see what's the problem.
Our professionals at the Lake Forest, CA Garage Door Sensors Company are trained in everything there is to know on safety sensors. Allow them to come and make your garage a safe place for you and your family.
Back To Our Services